Paramount Lender Solutions is proud to celebrate Asian Pacific American Heritage Month.
We are proud to share Ervin's story with you, read his interview below.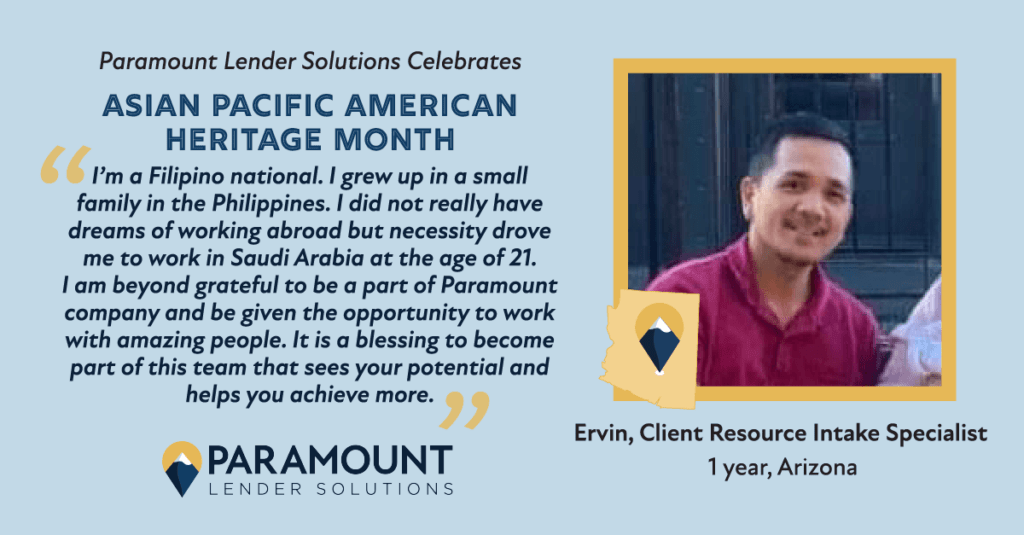 I'm Ervin, a Filipino national. I grew up in a small family in the Philippines. I have two other siblings who are also boys. Growing up, I did not really have dreams of working abroad but necessity drove me to work in Saudi Arabia at the age of 21. Culture and language are things that I had to work on. I learned to speak Arabic enough to get through my daily life. This is where I met the wonderful lady who happened to become my wife. She worked as a nurse in one of the government hospitals in the city.
Fast-forward to 2020, just when the pandemic started, my wife moved to Arizona for a good working opportunity in health care. A year after, I followed her, and our plan is to stay here for good and start our own family. By God's grace, now we have a baby boy whom we named Noel.
With the challenges that we face, living in a foreign land with different culture and language barriers, and becoming new parents, I am beyond grateful to be a part of Paramount's company and be given the opportunity to work with amazing people. It is a blessing to become part of this team that sees your potential and helps you achieve more. As the adage goes, "If there's a will, there's away." Whatever hurdles come our way, God is ever faithful to meet our needs and for me and my family, He provides for our needs and one of the ways is through Paramount.