Paramount Lender Solutions is proud to celebrate Asian Pacific American Heritage Month.
We are proud to share Weixi's story with you, read her interview below.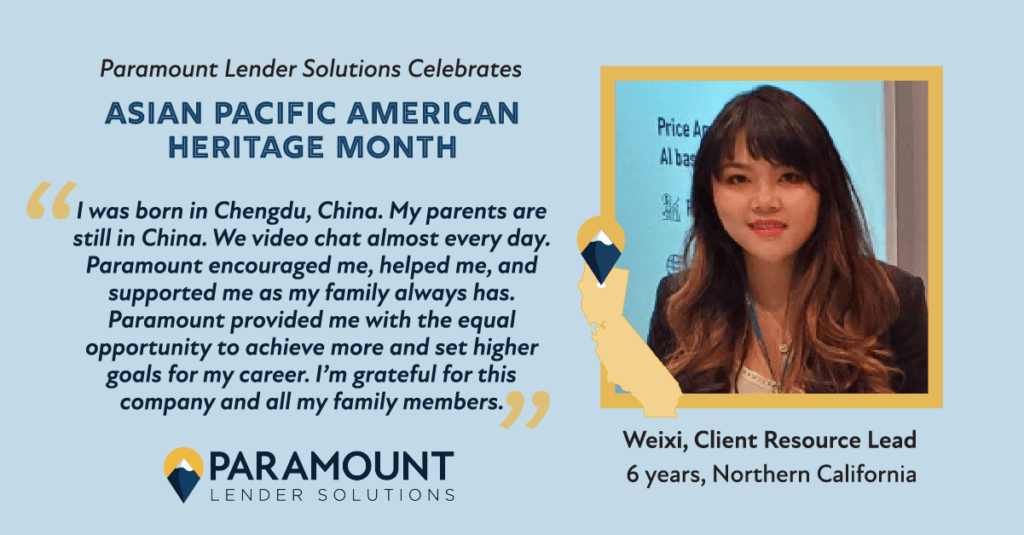 My name is Weixi Zhou. I was born in Chengdu, China. I came to America in 2013 when I was 20 years old. English is always my favorite subject in school. I loved watching American movies in high school and wanted to come to America to explore and learn. Finally, I came to a little town in Northern California called Redding. My aunt lives here and I stayed with her to go to college.
I was struggling at first with school and communicating with people. It was different from the movies. It took me a whole semester to finally settle in. In the last year of my college, I met my husband and started working at Advanced Services of Redding Ca. I was not confident at my job because of the language barrier, even though I studied English in China and in college here in America. Josh, my husband, and his parents always encouraged me, helped me, and taught me. They are selfless, caring, and kind.
Josh and I got married in 2018. We had a very cute boy in 2019, and we named him after his grandfather. I was very fortunate that I had a lot of support and encouragement from my family. My parents are still in China. We video chat almost every day. We celebrate all the traditional Chinese festivals here and my husband always gets all the traditional decorations for me. We will be going to China and visiting my parents and hopefully, it will be sooner than later.
I am a team member for Paramount Lender Solutions now. Paramount encouraged me, helped me, and supported me as my family has always has. Paramount provided me with the equal opportunity to achieve more and set higher goals for my career. I'm grateful for this company and all my family members.