Paramount Lender Solutions is proud to celebrate veterans.
We are proud to share Jimmy's story with you, read his interview below.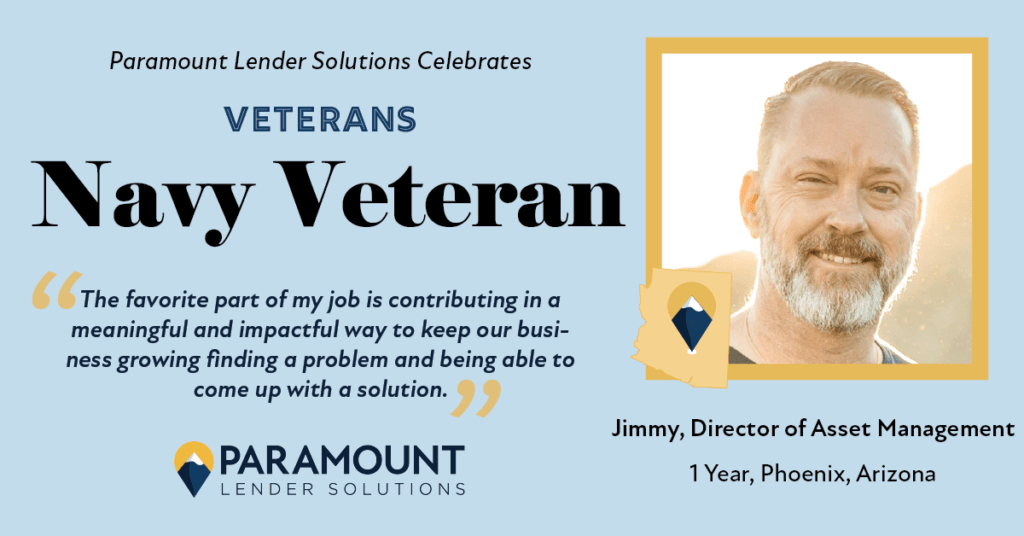 What area do you work in? Asset Management
Where are you originally from? Originally California, but I traveled a lot while in the Navy. Retired in the country of Bahrain spent a majority of my career in the Pacific Northwest.
Your Position with the company? Director of Asset Management
Years in the field? Less than a year
Daily Tasks? What do you coordinate? Data, all kinds of it from Fuel reporting, Vehicle management ie titles, registration, insurance, Claims tracking, working on lease extensions, utility setup, toll accounts adding and removing vehicles. Fleet management.
Who is a key player on your team? Tyler, Tony and David – Without them and their consistent support I couldn't do what I do. They all have been vital in me growing into my new role with Paramount.
What part of your job would you consider yourself to be really good at? Data analysis and reporting it out in a simplified way for most audiences to be able to understand.
What's your favorite part of the job? Contributing in a meaningful and impactful way to keep our business growing finding a problem and being able to come up with a solution.
What are some of your hobbies? Riding my Harley, shooting pool, and spending time with my wife and kids.
Anything else you would like to add? Is it Friday yet? LOL