Paramount Lender Solutions is proud to celebrate veterans.
We are proud to share Robert's story with you, read his interview below.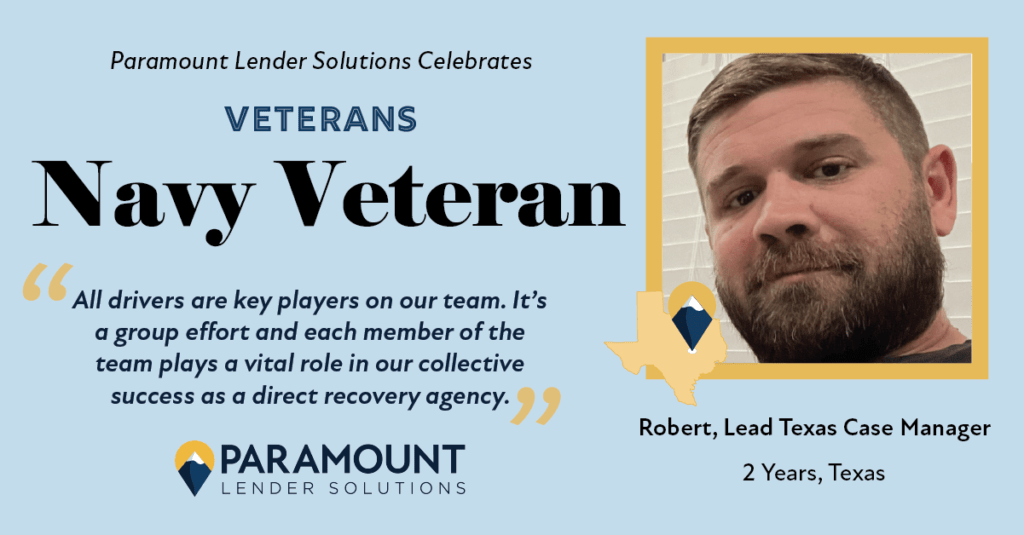 What area do you work in? Operations/Investigations
Where are you originally from? Gardnerville, NV
Your Position with the company? Lead Texas Case Manager
Years in the field? Almost 8 years in different capacities. Started as a bail bonds agent/recovery agent in Ventura, CA, and then 2 years as a special investigator for the Department of Defense. I moved to Texas and started working as a skip-tracer for another company in DFW.
Daily Tasks? A lot to list. Track daily repossessions in all areas around Texas, run reports on recovery percentages for clients in the Texas market. Skip-trace assignments. Assist in hiring new members to the team, interviewing, and posting new ads.
Who is a key player on your team? All drivers to be honest. It's a team effort and each member of the team plays a vital role in our collective success. I can find the address, but the unit does not get secured until an agent goes there and gets it.
What part of your job would you consider yourself to be really good at? Putting together all the small details to locate the best address for a unit.
What's your favorite part of the job? Providing superior client services and finding a needle in a haystack.
What are some of your hobbies? Softball, Golf, & Camping